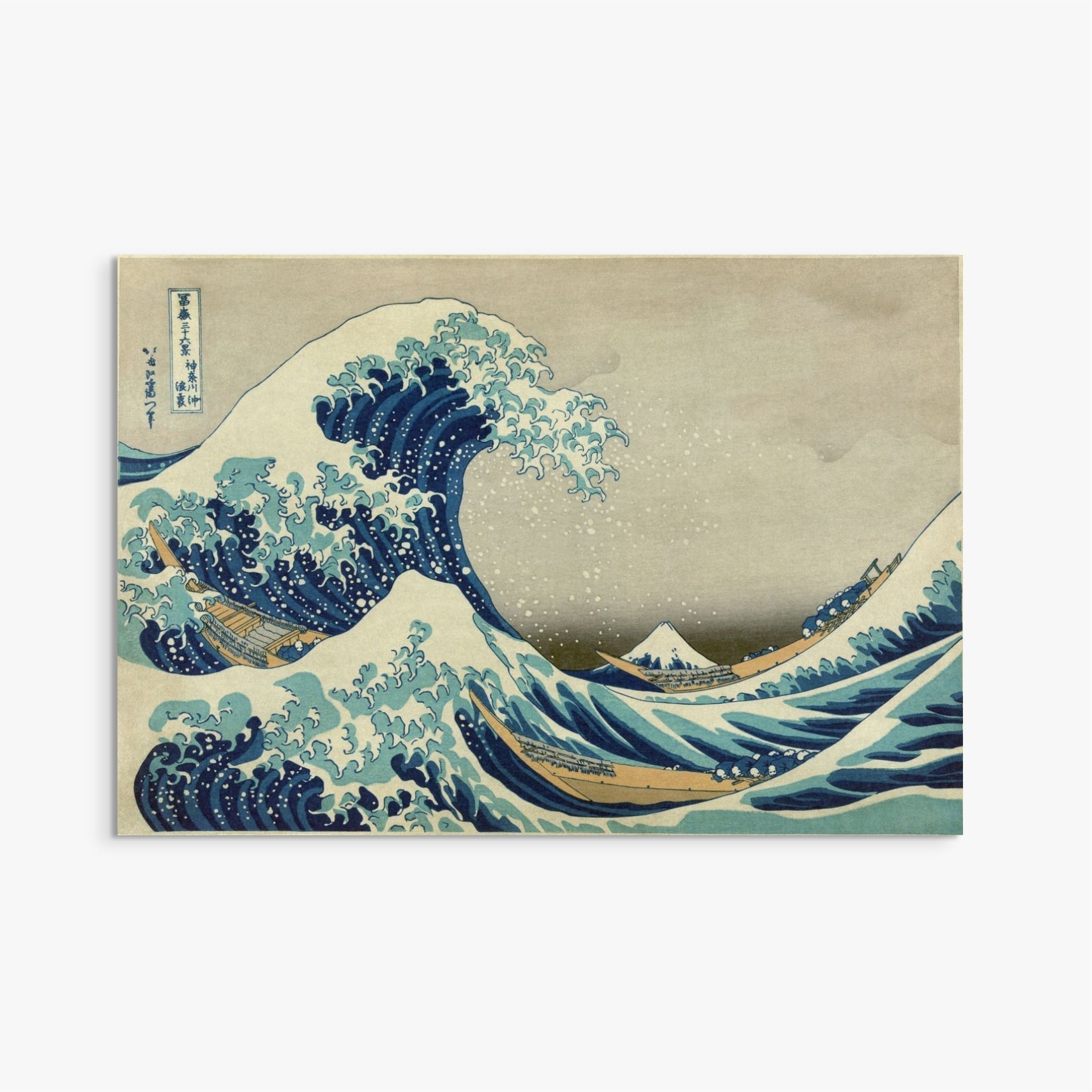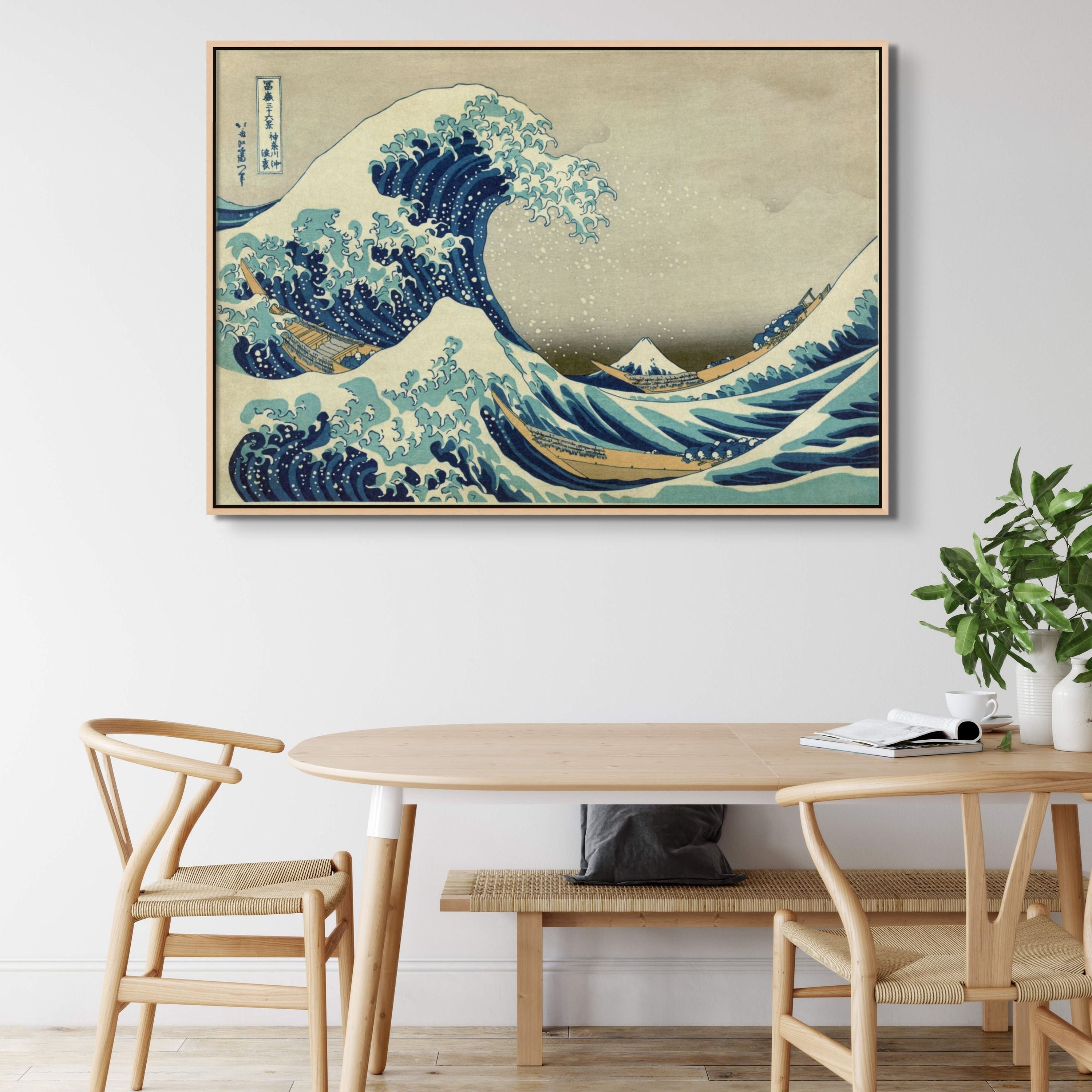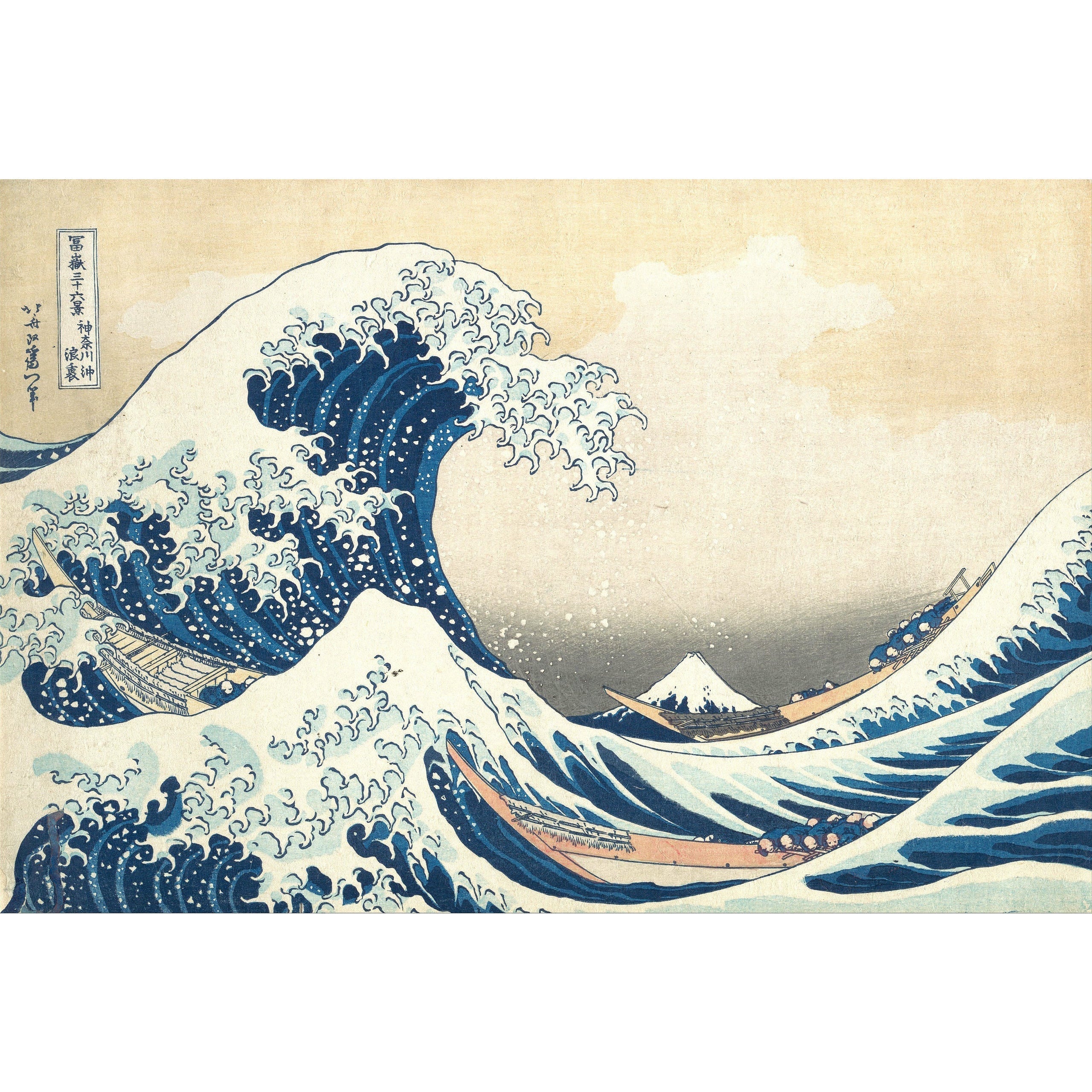 The Great Wave off Kanagawa
This is the most famous Japanese print in the world! Hokusai performed it at the age of 70. This image, often renamed The Wave, is from the series "Thirty-six views of Mount Fuji", a mountain considered sacred by the Japanese. This spectacular and particularly aggressive wave seems to be closing in on a prey (the three fishing boats at the bottom of the image!). The Prussian blue used by the artist is characteristic of Hokusai's taste. At the start of the 20th century, Claude Debussy chose this work to illustrate the cover of his score La Mer. A quote that will be followed by a multitude of others until today.
Description
Hokusai
Japan's most famous ukiyo-e printmaker in the Edo period (1603–1868), Katsushika Hokusai (1760–1849) was the author of a world-famous work: The Great Wave off Kanagawa (1831), which is among the equally famous "Thirty-six Views of Mount Fuji". The man who nicknamed himself "the drawing madman" also gained fame with his popular erotic and fantastic prints, as well as his important collection of various patterns and sketches: the Hokusai manga. This very prolific artist embodies Japanese spirituality and the celebration of an animist nature through his work. The discovery of his prints was a major aesthetic shock for European artists at the end of the 19th century.

Hokusai broke away from his teacher, attended several schools, and began to publish his first poetry collections. Around 1800, he adopted the name that would make him famous: Hokusai (meaning "Workshop of the North") in homage to a Buddhist deity he admired.

Hokusai, the painter in search of the absolute and master of illusion, devotes a cult to natural elements, respect that leads him to magnify their monumentality. The artist does not hesitate to indulge in innovative experiments, in particular using Prussian blue, a pigment recently introduced in Japan, which gives his views an exceptional intensity of color. But it was as a landscape painter that he imposed his original talent, combining his knowledge of traditional Japanese techniques with his curiosity for Western painting.
Original artwork details
Current location: The Hokusai Museum
Original size: 10.1 x 14.9 in (25.7 x 37.9 cm)
Date created: 1833
Art movement: Japanism

Painting and Framing
Our Painting Process
Hand-Painted
All our art reproductions are hand-painted by our master copyists. As part of their academic background, they have studied the techniques of old masters and will faithfully reproduce each artwork.

Materials
We use the best oil paints (Winsor & Newton or Grumbacher). All our canvases are made of 100% cotton, and have been double-coated with acid-free sizing and gesso primer.
Stretching & Framing
Ready to hang
Our stretcher frames are built using premium-quality kiln-dried wood to ensure a solid & sturdy foundation.  Our canvas stretchings are done by hand, utilizing the same traditional method employed by artists for hundreds of years.  We're committed to providing gallery wraps fastened without tapes, glues, or any other chemicals, thus helping to preserve your artwork well into the future.
Rolled canvas
Unframed rolled canvas orders will arrive rolled inside a protective tube with an extra 1.5" white canvas on all sides so you can easily frame it locally.
Process
1/ Review
We will share photographs of the complete work and request your feedback. Any requested revisions can be added.
2/ Approve
Once the painting has met your satisfaction, we will ask you to do a final approval.
3/ Ship
We will stretch (if you opt for stretching), pack, and deliver the art to you in 3 to 10 days.
Shipping and Returns
Returns
Each artwork is painted to order just for you in the size of your choice. That means we are unable to accept returns or exchanges. We can also not make any changes or cancellations to orders after 48 hours.
If your new artwork arrives in anything other than perfect condition for any reason, please let us know, and we will repair or replace the piece!
Shipping
Due to extremely high demand each piece can take between 2 to 6 weeks to paint, frame and ship. You'll receive a FedEx tracking number from us as soon as it's in the mail so you can keep an eye on things.
Looking for a different size?
We can personalize the reproduction of The Great Wave off Kanagawa to any of your wishes
Request a quote